Quzhou Sports Park, a sculptural complex steeped in nature
The year 2022 was marked by the completion of the construction of the Quzhou sports park in Chinese Zhejiang Province, the largest earth-protected structure ever built. Led by the founder of MAD Architects Ma Yansong, the project spans nearly 700,000 square meters and fluidly integrates into the surrounding landscape, which is adjacent to a mountain range and nestled among dense forests. The central part of the large sports park is shaped like a sculpture stadium, which emerges from the undulating ground as an open and sinuous volume. You can learn more about the project's nature-inspired aesthetic by visiting designboom's full coverage in 2022.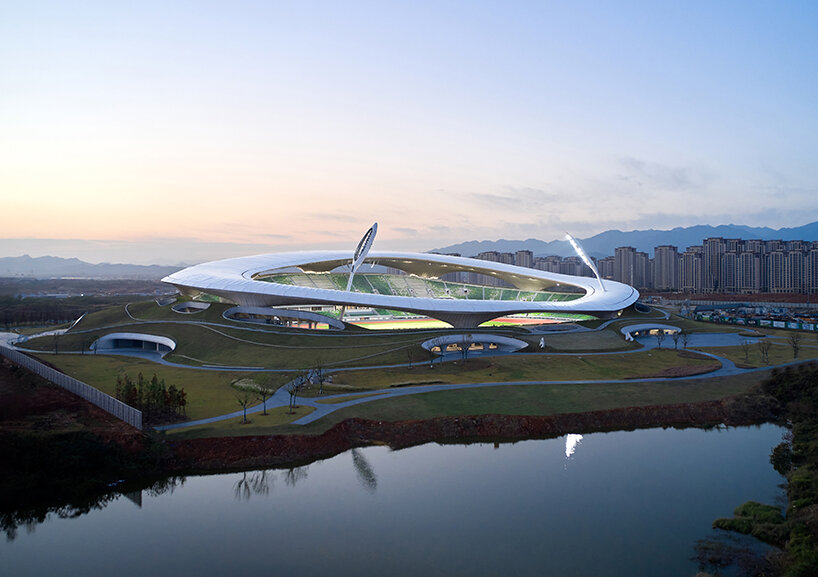 image by Aogvision | all images © MAD Architects
watch mad architects' ma yansong discuss its unique design
In a recent conversation with ArchdailyMa Yansong (see more here) talks about the concept behind his sculptural design for Quzhou Sports Park. Although conceived as a monumental landmark, the stadium does not take on an invasive quality; instead, thanks to a series of voids and openings, the architecture brings airiness and open space into its context.
'I think I consider this space as a void in this new city because we often talk about objects, functions, those positive things, but I also think that architecture can be negative, it can be a void, it can be a space. We want architecture to disappear. We need space for people to have a moment to dive into another dimension of space and time. That's why I want this space to be very attractive and inviting,' shared by Yansong.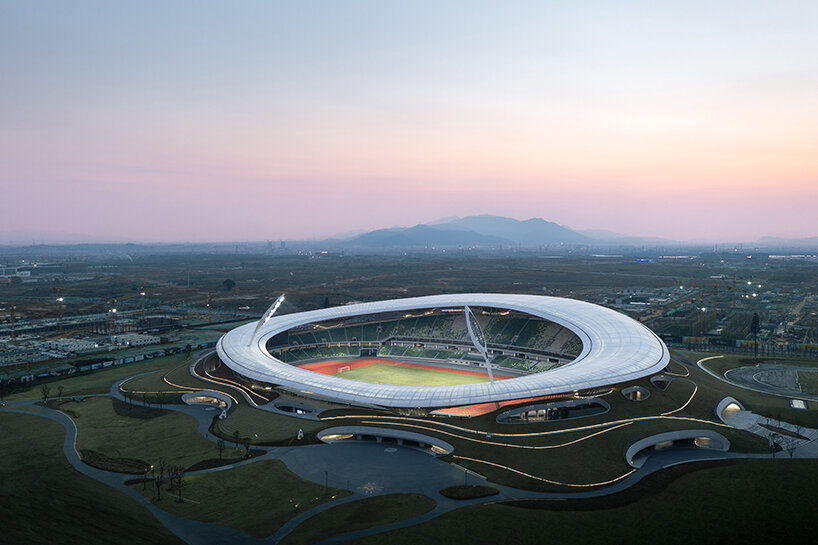 image by CreatAR Image
Apart from avoiding invasive design, the architect also made sure to convey a sense of surrealism and pleasant 'artificiality'. As he explains in the video, visitors only glimpse the white steel roof structure as they approach the stadium, which evokes a floating cloud atop green mountains. However, this sense of lightness gradually changes and transforms as one approaches the interior of Quzhou Sports Park. '[…]when you enter the building, you will find the structure inside the mountains, under the greenery. I imagine that these spaces are very strong, very heavy. I consider this a process of discovery,' reflects the architect.
Watch the video above to learn more about Ma Yansong's poetic vision for the stadium.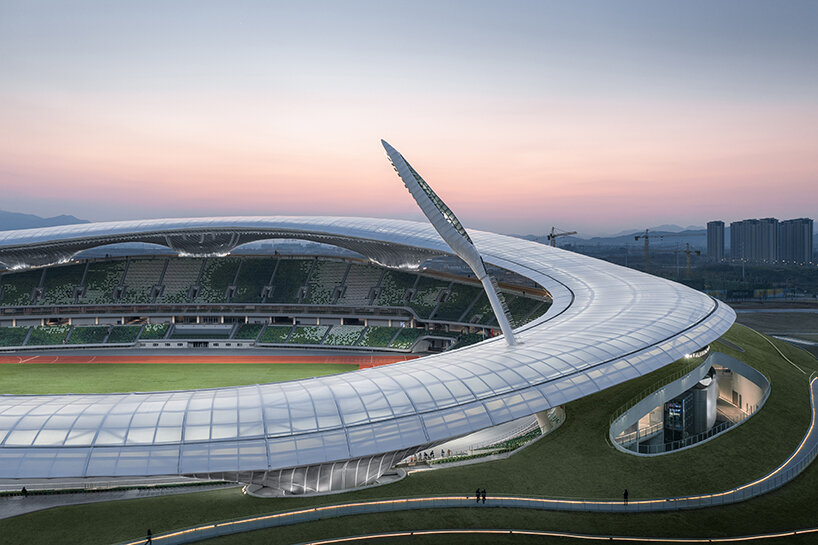 image by CreatAR Image