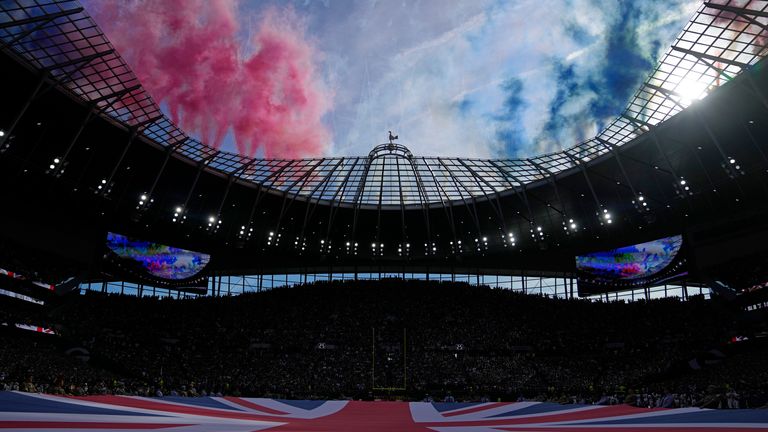 The NFL has established itself as an immovable powerhouse on the sporting landscape, while taking its global expansion to mainland Europe where a prosperous future in Germany awaits. So what next? The answer continues to feel limitless.
In 2022, the league completed the clean sweep as the Green Bay Packers became the 32nd and final team to play a game in London, before a record International Series attendance of 86,215 fans watched the Denver Broncos beat the Jacksonville Jaguars at Wembley Stadium.
The Allianz Arena then played stage to the first regular season game in Germany as the Tampa Bay Buccaneers faced the Seattle Seahawks after it was agreed that Munich and Frankfurt would host games over the next four years.
Between the on-field action, London also welcomed the return of the International Combine to Tottenham Hotspur Stadium, while celebrating the month with a Southbank takeover, fan parties and activities for members of the NFL Foundation UK.
NFL commissioner Roger Goodell teased the prospect of an entire European division last year, and while the long-touted suggestion of a permanent UK team remains some way down the line, NFL UK general manager Henry Hodgson insists continued growth in fandom will only breed further progress .
"I think our responsibility is to continue to deliver the best possible fan experience for fans at those games," Hodgson said Sky Sports.
"So what we're focused on as a team is for those games, and everything else we do in the UK, is to make sure when fans get a chance to engage with the NFL, whether it's in person at a game or at an event or on digital/social, we're delivering the best possible experiences for them.
"We work really closely with Sky and other broadcast partners to do the same.
"There's always going to be speculation about 'now what?', more games, franchise etc, and I think those things will come if we continue to deliver those great experiences and frankly continue to grow and evolve the fan base to make them more excited and engaged with the NFL.
"That's the bit we can control, right? Everything else will come because we've done those things and gone through those processes. That's the most important thing to us as a team."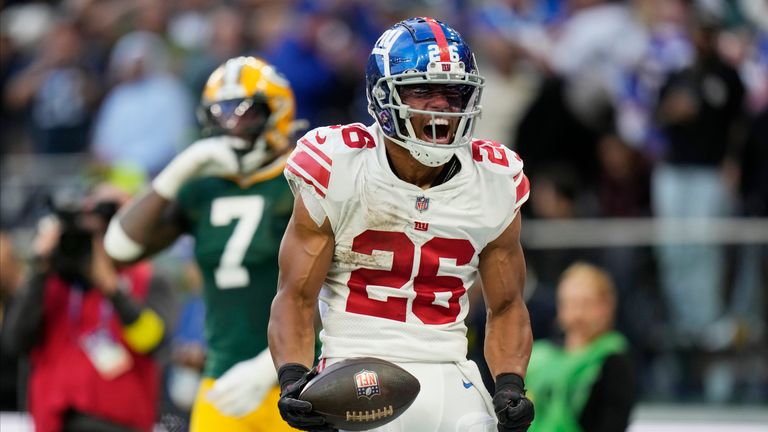 Highlights of the New York Giants' win against the Green Bay Packers in London
The NFL will play five International Series games in 2023 including three in London and two in Germany, with no game scheduled for Mexico due to renovations taking place in Estadio Azteca in Mexico City.
The Buffalo Bills and Tennessee Titans will both host games at Tottenham Hotspur Stadium in their first UK appearances since 2015 and 2018, respectively, while the Jacksonville Jaguars return to Wembley for their landmark 10th game in London.
It will see London take its tally of International Series games to 36 since the first in 2007.
"I was lucky enough to be part of the NFL office when we got that first game in 2007 and I think at the time kind of leading into that game but also even when it was happening, we were amazed that it was allowed to happen and it was happening," Hodgson added.
"I'm not sure after that, not that anything went wrong with that game, I'm not sure we were counting on another game in 2008 so the idea we'd be hearing about the fact we have five international games coming up this year, a team willing to play their own game and take a home game from their own stadium in the Jags and play for the 10th year, and that we have this process to guarantee the fact that we have international games, is pretty remarkable.
"It does show how far the sport has come and how much the fans that have helped us grow the sport have kind of expanded to such a place that it now doesn't come as much of a surprise when these types of announcements are made. When you stop and think about it, that was I think a huge achievement."
The league ventured into Germany last year knowing that the continent's largest NFL fanbase awaited them, and a passion for football stemming from the country's prominence during the days of NFL Europe.
Take Tom Brady out of the equation, take the support of Seattle Seahawks fans out of the equation and Munich would still have been raucous as the league ticked the 'long-term home' box within minutes of getting off the plane.
"I think the biggest takeaway for me honestly is that it didn't surprise me at all," said Hodgson. "I knew how big of a fan base and how passionate of a fan base there was in Germany so seeing them all in Munich, loving the sport wasn't a surprise to me, it was a fantastic atmosphere and I was lucky enough/old enough to be around NFL Europe and it was not dissimilar to that as well.
"I think it underlined the opportunity we have there and clearly played a part as well in the opportunity now to play two games in Germany this year."
Hodgson noted that even before the cancellation of this year's Mexico game there had been discussions about the prospect of a second Germany game.
What's more, he adds there is always "discussion about other markets we think we'd be able to play in and have success in".
The NFL considers the younger generations and grassroots sport as driving factors in the continued growth of support in the UK, with the league working towards Flag Football being introduced as an Olympic sport at the 2028 Games in Los Angeles.
This year's Pro Bowl will notably see London's Little Ealing Primary School represent Britain in Las Vegas after winning the NFL Flag National Championship at Loughborough University last summer.
"I think honestly that's the most exciting thing that's happening here," said Hodgson. "The fact there are more and more kids and more and more schools taking up flag football and giving kids the opportunity to play the sport and fall in love with the game that was, is how we're going to grow and where the next generation of NFL fans will come from.
"In terms of how that's going to develop we will continue to expand, that's another thing we're looking to expand across the whole country and you'll see the output of it, for example, there's a UK team that won the UK tournament and will be playing on behalf of the UK at the Pro Bowl against other international teams.
"You've probably heard about what the NFL and IFAF are working on for flag in the 2028 Olympics and the hope of getting it as a new sport in the Olympics.
"It's a really key part of our strategy and most importantly it's the best way for us to get young people to experience the sport, play it, fall in love with it that way."
Fans can register their interest in tickets for NFL London games, here.
Sky Sports NFL is your dedicated channel for NFL coverage throughout the season – featuring a host of NFL Network programming. Don't forget to follow us on skysports.com/nflour Twitter account @SkySportsNFL & Sky Sports – on the go!